About Me Heather Luna-Rose, Executive Director
I do not support the brutalizing and de-humanizing of any person, nor the condemning of broken people to be further marginalized and suffer alone. In addition to massive rethinking of the War on Drugs which further punishes addicts, we need to end mass incarceration and brutalizing of the most vulnerable.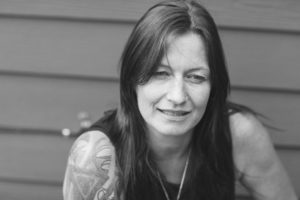 We all have a light to share in this world and can all use our actions towards compassion, mercy and justice. I founded and work tirelessly to keep  Luna-Rose Prisoner Support going on sheer determination, tenacity and commitment to uphold the dignity of all and not let people walk the darkest road of their lives alone.
Surviving many forms of violence draws me to broken people and the healing and hope that we can bring to each other as compassionate witnesses. Resisting all forms of injustice and brutality, I engage with inmates drawing on experience in gender-based violence prevention, addiction counselling, gender-queer activism, feminist ethics & critical pedagogy, humanitarian action & peace-building, meditation & yoga.
I speak every semester with the Law 12 class at GISS (Gulf Islands Secondary School) on Salt Spring Island, BC, sharing how this former high-school dropout and survivor of much violence, drug and alcohol addictions and mental illness now works to connect with others who have been thrown away by the world and bring them advocacy, healing and hope.
Education: BA in Psychology & Women's Studies, Simon Fraser University; M .Ed, University of Victoria; Post-Grad Certificate in Humanitarian Action & Conflict, Oxford Brookes University, UK.
"EVERYTHING CAN BE TAKEN FROM A PERSON BUT THE LAST OF HUMAN FREEDOMS – THE ABILITY TO CHOOSE ONE'S ATTITUDE IN ANY GIVEN SET OF CIRCUMSTANCES, TO CHOOSE ONE'S OWN WAY."        – Viktor E. Frankl
Freedom is available to each of us —  in our mindful and heart-centred responses to each other. No matter who we are, what we've come from, we can all transform our selves, our attitudes and our world through loving kindness and action in service to justice and dignity for all.
Contact me: I will respond to all enquiries and requests to book a reading of my memoir Unforgotten: Finding Hope in Bangkok Prisons,  published Sept. 2015.