About Me Heather Luna-Rose, Executive Director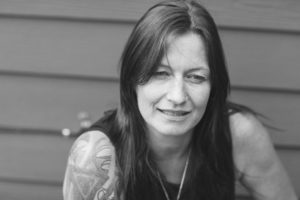 We all have a light to share in this world and can use our actions towards radical compassion, mercy and justice. I work tirelessly to keep  Luna-Rose Prisoner Support going on sheer determination, tenacity and commitment to uphold the dignity of all and to not let people walk the darkest road of their lives alone.
A survivor of violence and debilitating ptsd, I am drawn to broken people and the healing and hope that we can bring to each other as compassionate, authentic witnesses. I draw on on multiple approaches in counselling inmates, including gender-based violence prevention; trauma-informed ethics; addiction counselling; critical pedagogy; humanitarian action & peace-building; and, meditation, theatre & yoga.
I speak every semester with the Law 12 class at GISS (Gulf Islands Secondary School) on Salt Spring Island, BC, sharing how this former high-school dropout and drug and alcohol abusing teen works to connect to others who have been thrown away by the world and bring them advocacy, healing and hope.
I hold a BA in Psychology & Women's Studies, Simon Fraser University, an M .Ed, University of Victoria and a Post-Grad Certificate in Humanitarian Action & Conflict, Oxford Brookes University, UK. I read cognitive science, philosophy, ethics, memoirs, and love mucking about in dirt, planting seeds, travelling, and challenging myself. I am ferocious in my hopes for our world and fierce in my commitment to sane, consensual, ethical practice of human connection.
"EVERYTHING CAN BE TAKEN FROM A PERSON BUT THE LAST OF HUMAN FREEDOMS – THE ABILITY TO CHOOSE ONE'S ATTITUDE IN ANY GIVEN SET OF CIRCUMSTANCES, TO CHOOSE ONE'S OWN WAY."        – Viktor E. Frankl
Freedom is available to each of us —  in our mindful and heart-centred responses to each other. No matter who we are, what we've come from, we can all transform our selves, our attitudes and our world through loving kindness and action in service to justice and dignity.
Contact me: I will respond to all enquiries and requests from book groups to discuss my memoir Unforgotten: Finding Hope in Bangkok Prisons,  published Sept. 2015.