Bangkwang Prison Mural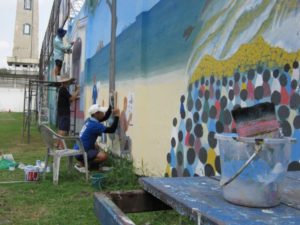 Heather Luna-Rose spent two days inside Bangkwang prison in 2014 as a small group of inmates worked on a mural.
Because of my longstanding work supporting inmates at Bangkang and my prisoner art exhibits, I was invited inside Bangkwang to meet with the inmates working on their mural project. In February 2014 qnd again in March 2014, I spent many hours as a guest of this inmate art project group, inside Bangkwang, talking with, sharing food with and hearing from the inmates about their art. I was privileged to share with them examples of other prisoner mural projects from around the globe and prison art, connecting them with others who share an unique experience and perspective and opportunity for change. These inmate artists shared with me both their ideas and progress on their creative journeys.
The theme of the mural, 'Always Remember' is chronicled through a series of many panels that show their journeys from their outside lives as criminals, through their prison experiences and struggles to hold on to their humanity and subsequent transformation of their inner lives through their art practice, spiritual practice and creative process.