Prison Art
In addition to counselling and support visitations, for many years I brought food, toiletries and art and writing supplies to Bangkwang inmates. This is no longer allowed. One Russian/Ukrainian inmate Felix Cheremnykh created beautiful ball-point pen drawings. Providing him art supplies, and promoting his work over thousands of hours of work and with my own funds, I curated several prisoner art exhibits in Canada that showcased Felix's art work drawn in Bangkwang prison. I facilitated sales of some of his art, the proceeds of which I deposited back into his Bangkwang prisoner account, which allowed him to purchase his own food and necessities in the prison. One year I was even able to send money to his mother in the Ukraine. My support and encouragement of his artistic abilities was instrumental to both to his financial and emotional well-being over long years served, and Felix credits the artwork with helping him overcome years of seemingly interminable monotony in Bangkwang prison. Now a free man, he continues to pursue his artistic goals.
Luna-Rose Prisoner Support PRISONER ART EXHIBITS:
August, 2010: 'Through The Glass'-  Salt Spring Island, BC.//October, 2011: 'Hope in Dark Places' – Vancouver, BC.//October, 2013: 'Humanity & Hope' – Salt Spring Island, BC. YOUTUBE: Prison Art Exhibit: Salt Spring Island 2013//October, 2014: 'Support Hope' – Vancouver, BC. YOUTUBE: Opening Night, 2014
---
---
Since his release in December, 2105, after over thirteen years of incarceration, Felix continues to develop and challenge his skills to build a new life as an artist in Russia, rather than as a criminal.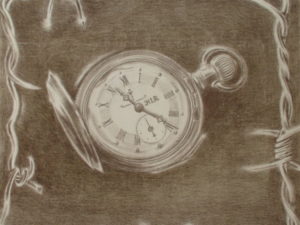 Given as a gift to me in thanks for my support of him, Felix etched with bits of copper on paper the hands of this timepiece that mark the 11 years and 5 months served at that time (2013).
Another inmate artist: Satit. I met Satit in Feb. 2014 when he presented the below piece for me, signed by the entire Bangkwang mural art class, after I spent a day inside Bangkwang prison.  For years, Satit's job inside Bangkwang prison was to clean  the execution room of Bangkwang prison. Satit spoke to me of the stories and spirits contained within the walls, soil, dust, and blood splatters on the walls of the chambers.
"When I worked in the execution room for Bang Kwang prison alone, I could perceive something that cannot be scientifically explained: fear, distress, anger and sadness spread around me. I felt uncomfortably stressful nearly to cry sometimes. Over 80 years of executions in Bang Kwang prison with 2 periods of execution methods, executed by bullets and executed with injections killed over 325 prisoners. I think every dust of soil, every piece of brick, every tree, every life and everything perceives/carries the stories of this place very well. I would like to bring these things to portray as art pieces for people to recognize the pasts of this place and the death of the prisoners. This may change the future of someone. Every time I work these art pieces, I light the incense to ask for permission from them and pay the respect to the spirit, even still being there or not…. Seems like their spirits want me to tell the stories of their ending life."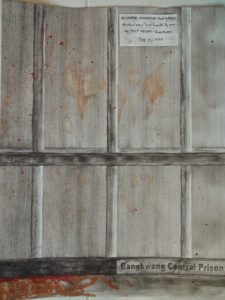 The piece, titled "Execution Room," bears both the names of the first inmate executed and the first executioner of Bangkwang prison on September 11, 1935.